Apply
All Year 11 students are undertaking the most important decision/choice in their education - 'What should I do at Sixth Form/FE/Post 16'. The pathway students choose now and the institution they select will significantly affect their opportunities and career in the future. A level and Level 3 subject choice and their final grades will ultimately determine their career pathways, be that University choices, or Higher and Degree Apprenticeships. Therefore, it is crucial that they make an informed choice, considering all the factors that will support or limit their progress over the next two or three years.
To support in the application process we are proud to share our Sixth Form 2021 Prospectus here, we are utilising a digital format, alongside a physical printed version, allowing us to embed easy links to additional information and resources to inform you further. Each subject has an information page as well as an embedded video where teachers go in to more detail about the subject, what it is like to study and the career opportunities that that subject enables. We hope that this supports your decision-making process, however if you require additional information or would like to talk through your application to any of our courses and our Sixth Form please contact Mrs Emma Gallagher, Deputy Head Teacher via email on egallagher@southdartmoor.devon.sch.uk.
Once you have read the prospectus please consider the subjects that you wish to study and the blocks that they are in. The blocks are now set based on the first round of applications. We recommend that you pick 4 A Levels reserving the option to reduce to 3 qualifications in Year13 if you wish, having completed an As in the 4th subject during Year12. In the blocks that you don't have a subject you will need to select private study. If you wish to study CTECH Sport this is equivalent to 3 A Levels so please select it in 3 blocks and Private study in the remaining blocks.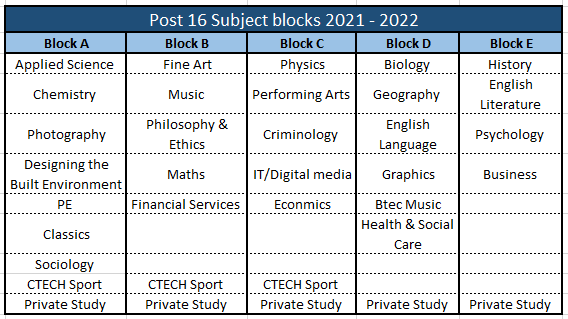 To apply to become part of one of the highest performing 6th forms in Devon please use the following link to the application form. If you would prefer a paper copy of the Prospectus, please contact the 6th Form administration team on 01364 352301.